Introducing THE HIVE Real Estate Group with Realty Austin (formerly known as The Melissa and Bailey Team)
Laid back, power duo, Melissa Roberts and Bailey Perkins, share their passion for helping their clients' and community.
Busy Bees
Not your average realtors. We know our stuff, love what we do, and have a ton of fun along the way. We're a dynamic duo with a wealth of knowledge, unique strategies, big ideas, and precise execution when it comes to real estate. We work with everyone from first time home buyers, to luxury homes, investors, and commercial businesses. Our clients always become friends and family to us, which is a true testament to our dedication and our approachable, caring natures.
The Buzz Around Town
We love the communities where we work and live, and are involved in every way that we can be. From volunteering at Habitat For Humanity builds, to charity toy drives at Christmas, donating a portion of each of our commissions to charity, to playing in our local co-ed softball team, coaching Dripping Springs Youth Soccer, to shopping local and sharing our favorite local spots with others, our goal is to always be an active and positive asset to our communities. You're sure to see us out and about at the local nursery choosing plants for landscaping, at Home Depot selecting paint swatches, shopping at Fresh Native for some great staging material, or working away from our unofficial headquarters, Mazama Coffee Co. on Mercer. Don't be afraid to say, "Hey Y'all!" We'd love to meet you!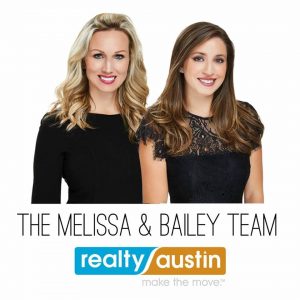 Meet Melissa Roberts – MelissaRoberts@RealtyAustin.com
Competitive and nurturing usually aren't characteristics that go hand-in-hand, however, I couldn't find a better way to describe myself. I challenge myself to continuously master my craft, and to inherently know what each family/client needs from me. I pride myself in my ability to take my clients' expectations beyond what they ever could have imagined. I've been ranked as a top agent several times throughout my career, and am very blessed to work for the #1 agency in Austin, Realty Austin. Working with Bailey has taken my business to a whole new level. We love taking on the real estate market together. My real drive for excellence comes from my three wonderful children, and my supportive husband. They make me better each and every day. A proud native Texan, I love my state and bringing people into our beautiful Hill Country.
Meet Bailey Perkins – BaileyPerkins@RealtyAustin.com
The daughter of a custom home builder, I grew up in Lakeway and Spicewood, attended Texas State University, and then worked for one of the largest marketing companies in Austin. It was my dad who encouraged me to get my license, and subsequently introduced me to Melissa. We hit it off immediately, and were completely in-sync with our philosophies on servant based leadership, and holding our standards for service to clients at the utmost level. I am so very blessed to do this for a living and to work with a wonderful partner like Melissa. She is so genuine, kind, giving, and knows the real estate business in and out. There's a lot of realtors in Austin, but working with us is a truly unique experience – -we care, we give, and we deliver results — and get to add some really great people into our circle of family and friends as we do!
Special thanks to Chase Babcock of Twist Tours Photography and Denise Stone, owner of Bee Lavish Vintage Rentals!
Melissa Roberts / 512.769.0877 / MelissaRoberts@RealtyAustin.com
Bailey Perkins / 512.228.1834 / BaileyPerkins@RealtyAustin.com
Facebook.com/wesellaustin
Haute Testimonial:
My husband and I just closed on our new home in Dale, TX with the help of Melissa Roberts and Bailey Perkins. We were relocating from California (with our cat, 4 dogs, and 4 horses) so this was a very tough process and they stuck by our sides the whole time. We couldn't have asked for a better team to work with! I would HIGHLY recommend them to anyone looking to buy (or sell) in the Austin area. If we can convince the rest of the family to move here, you bet they will be using them too! Thanks ladies!!!! – Cora & Jared Cook, November 2016